Feb. 21, 2011, 5:21 p.m.
In the summer of 2009 I rode my bike 2100 miles down the Pacific coast from Blaine, WA to San Ysidro, CA. I started riding on Aug. 12th and reached the border on Nov. 22nd. This is my ride diary.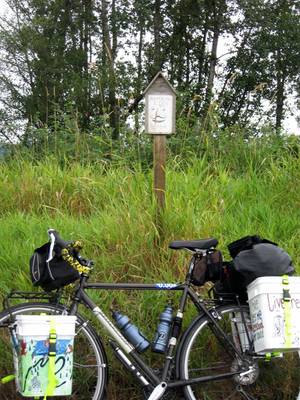 The event that started this off was my bike getting stolen on 4/20/07. This was a huge blow to me because I was car-free at the time. I borrowed my mom's old Motobecane touring bike for a few months before getting a new one. I kept thinking about her big ride with the bike in the 70's. She dipped the back tire in the Atlantic ocean and then rode across country to dip the front tire in the Pacific. She did the ride with a bunch of people and used a sag wagon to carry all her gear. The ride was part of an awareness campaign for bike safety or something like that.
When I was ready to buy a bike of my own I opted for a touring bike as well. I hadn't been dreaming of 'the big ride' at that time. My fantasy was to ride my bike somewhere and then go for a hike. At the time I didn't have a car so the idea was just to get out and go camping with out driving.
I didn't start thinking about going on a big tour until I saw a book on the clearance rack of a local bookstore. The book was called Adventure Cycle Touring. It's about taking giant tours across continents. This got me fired up to do a big long tour down the coast to the Mexican border.
At the time I was working a crappy job behind the seafood counter of grocery store. I spent many evenings looking out from behind the counter thinking about how I could swing a trip of this magnitude. I had saved up enough money for the duration, so that wasn't a problem. I had most of the gear I needed. The only big items missing from my collection of camping gear was a lightweight sleeping bag, panniers, and a front rack. I bought a Surly front rack and a sleeping bag. I decided to make panniers using 4 gal square plastic buckets, the kind cat litter or mayonnaise come in. As I saw it the job was thing only thing standing in my way of going on the trip.
To fix that problem I decided to quit my job. So on my 5 year anniversary I handed in my letter of resignation. That was in the end of July 2009.
Prior to leaving I got all the last minute things in order. I decorated my bike buckets with a couple friends of mine. We all drew on them using sharpies. I love the way they came out. I also took a test ride with loaded panniers to Deception Pass SP and camped out for the night. The bike was easier to handle than I expected. I spent the night there and rode back the next morning. Most importantly I hung out with my girlfriend Colleen A LOT.
I remember tossing and turning in my bed the night before setting out. I had only partially packed everything and I was thinking about all the things that could go wrong. I probably slept just 4 hours that night. I woke the next morning wide awake and ready to ride!